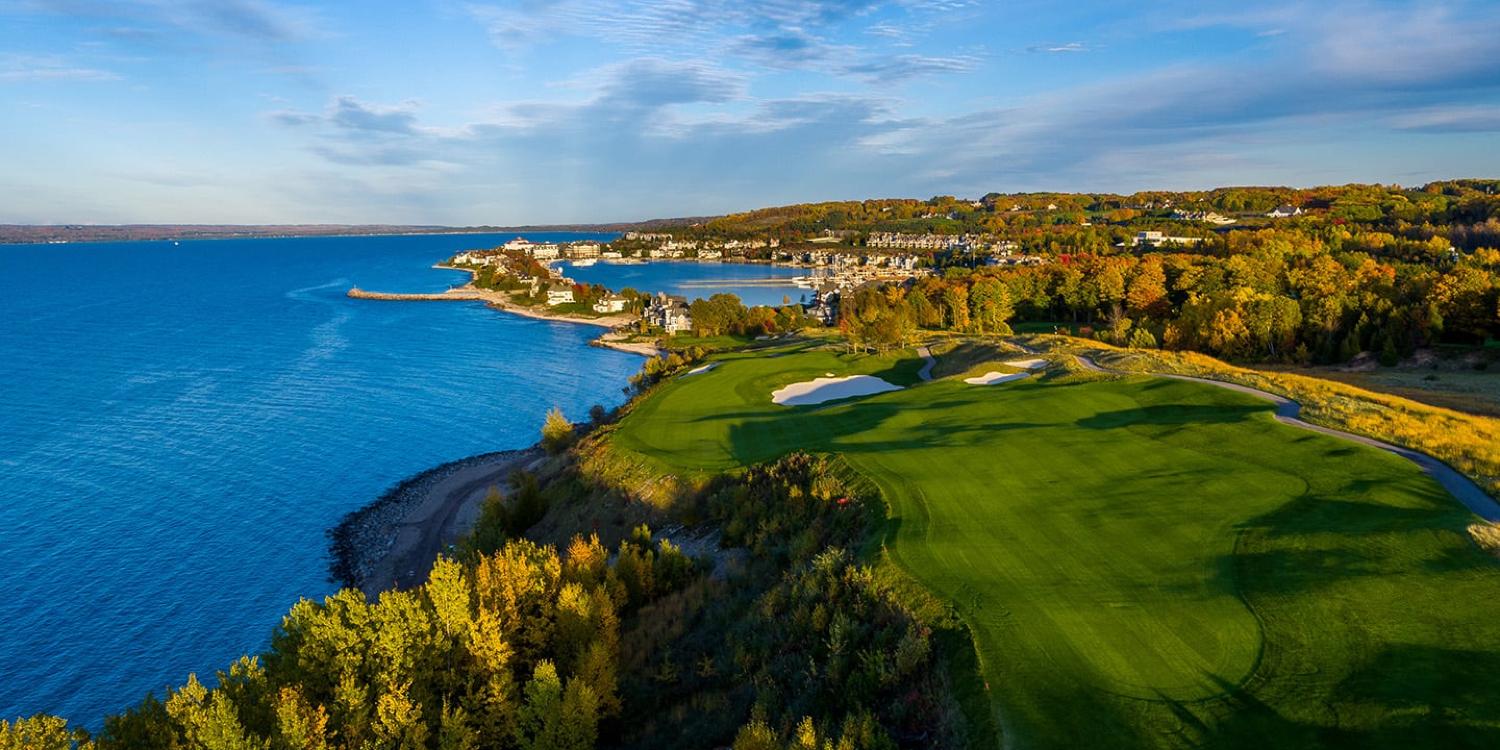 Journey to Northern Michigan
One of the enduring appeals of an all you can eat buffet is you're moving down the line seeing all the things you like, filling your plate, and then you find something you like even better than what you had before.

But you don't replace the food on your plate, that would be rude, you just scoot it over to make more room and add even more good things.

When it comes to unique, themed America's Summer Golf Capital, www.americassummergolfcapital.com, the concept is much the same for the great Northern Michigan golf destination. Just when you've played all great courses in the area, you find there is another in the grouping. You just scoot it over and tee it up again for another satisfying, scenic round.

"We do have quite a variety here and adding more all the time," said Charlie Olson, who does publicity for the ASGC organization.

Currently there are nearly two dozen different courses and seven different resorts with varying lodging options for types of golfing groups and Individuals who want to sample the never ending buffet.

Plus, unlike most real capitals which has traffic, politicians and other non-pleasant activities, America's Summer Golf Capital has more links, more scenery and more value for your golfing dollar. Plus, the summer here is not a fixed date, it can extended for as long as you want to tee it up.

"Play when you want, where you want, how you want, it's really a great concept," said Olson.

Many of the courses in the ASGC Program are associated with the longtime golf industry leader Boyne Golf, but others are not. Each can be booked individually or through links on the association website. That's one stop shopping for your golfing buffet

ASGC was started in the mid 1990's by the three charter members Treetops, Crystal Mountain, and Boyne and all three remain today.

Treetops has the Masterpiece course, designed by true golf architectural master Robert Trent Jones, Sr., along with the Signature, the only Tom Fazio Course in Michigan, along with two Rick Smith designs, the Signature and the Tradition.

It's also has the Threetop par 3 short course. One of the first Par 3s associated with a golf resort and likely most of the most famous in all of golf.

It features plenty of lengthy, par 3 shots, 1,497 yards from the back tees, with lots of uphill or downhill twist and turns, but gained it's true fame starting when the Par 3 Shootout was started in 1999 on ESPN featuring PGA Tour players. In 2001, Texan Lee Trevino won $1 million dollars for acing the par 3 7th hole and his televised reaction, and the plaque which now sits on the tee box, forever cemented Threetops as the short course place to be.

Today, it's fame is secured and it's as popular as ever. As one local pro once told me, "at the beginning, we had to beg people to just try the Threetops layout with their other rounds, but now you better have a tee time well in advance, because it's one of our most popular courses here."

Crystal Mountain has two outstanding courses, Mountain Ridge and Betsie Valley, which recently went through a $1 million dollar renovation to polish the Northern Michigan Jewell.

Boyne offers the biggest variety of courses in the golfing capital. There is the Alpine and Monument course at Boyne Mountain. The Arthur Hills, Donald Ross Memorial, Heather by Robert Trent Jones and The Moor are all at The Highlands at Harbor Springs

A-Ga-Ming Resort offers two outstanding buffet options, the Sundance and Torch courses with cabins lining the Torch layout. The Grand Traverse Resort challenges golfer with the Bear layout, designed by the Golden Bear himself, Jack Nicklaus, plus the Wolverine layout by Gary Player and Spruce Run.

Its huge 16-floor gold mirror tower lodging visible from much of Traverse City and Little Traverse Bay is the welcome sign the golfing buffet is always open to golfing residents and visitors.

Of course, every proper buffet must include dessert, so the best candy, golfing eye candy that is, can be found at the Inn at Bay Harbor. Several holes from the Links are routed all along with scenic shores of Lake Michigan along with 9 holes at the Quarry and The Preserve, all with luxury lodging waterside at the Inn at Bay Harbor. There is also the nearby Crocked Tree Golf Club.

If only most capitals were this pleasant, but when you journey to Northern Michigan, a visit to America's Summer Golf Capital, and the many course and resorts its composed of, is a must.
---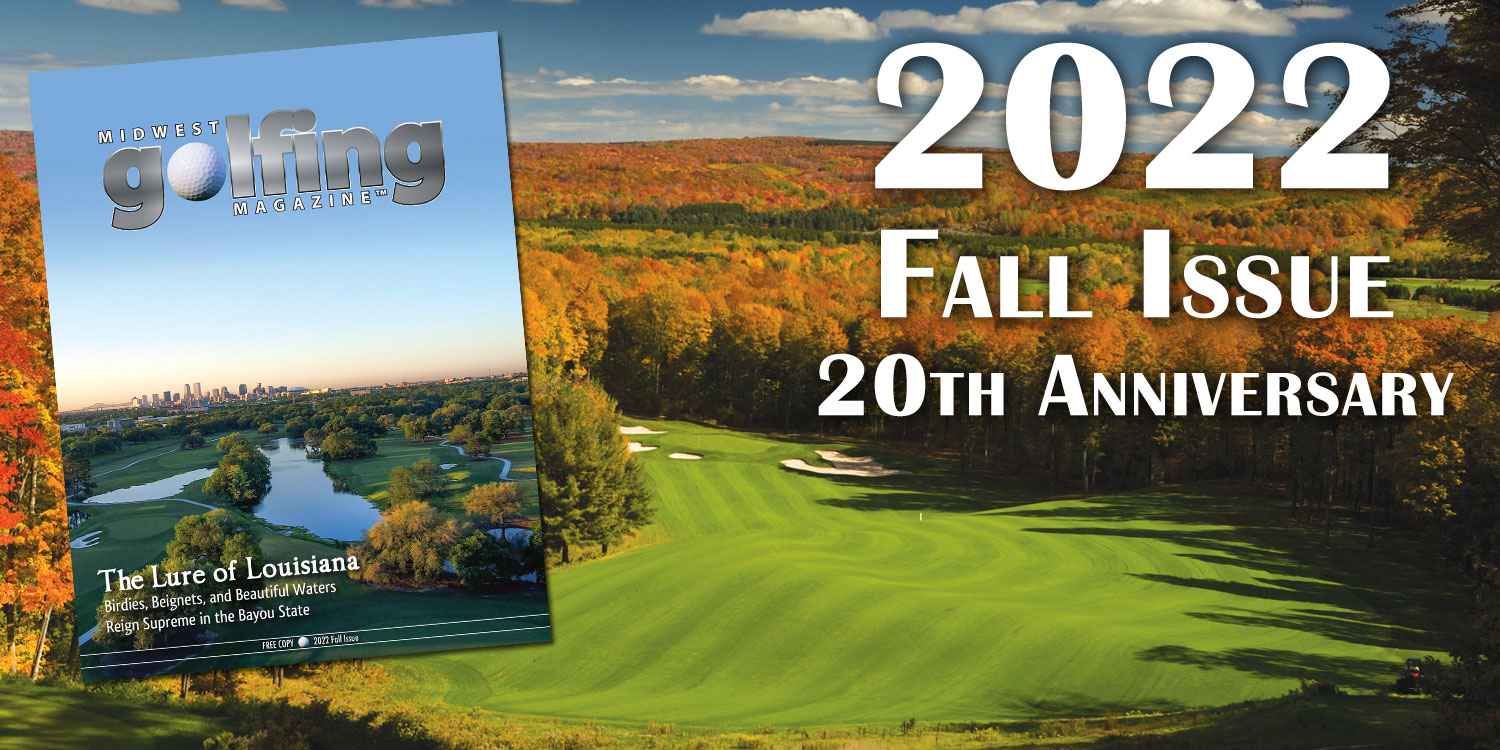 Fall Issue Now Available Online
Midwest Golfing Magazine (MGM) is one of the top magazines in the Midwest, featuring stunning photography and in-depth articles. This distinctive publication contains informative, educational and entertaining golf coverage from around the Midwest and beyond. Each issue includes golf news, profiles of golf personalities, tournament coverage, golf destination features, course reviews, details on the latest in golf equipment and much more.

This Quarter's Features

The Lure of Louisiana
Birdies, Beignets, and Beautiful Waters Reign Supreme in the Bayou State

A Wolf in the Desert
From Video Games and Commercial Shoots to Top Rankings, Wolf Creek is a World-Wide Phenomenon

Hope after High Water
Gulf Shores, Alabama is Back and Better Than Ever After Hurricane Sally

The Must Plays of Mississippi
The Magnolia State is Highlighted by Value - Driven Gems

Golf's Disney World
With a little help from Tiger Woods, Missouri's Big Cedar Lodge is perhaps the most magical merging of golf and the outdoors among resorts in America

Eagle Ridge Resort & Spa in Galena
Illinois Completes Renovations to Historical Midwest Property

Something for Everybody Fox Hills Golf and Banquet Center
The largest golf facility in southeastern Michigan, is under new ownership