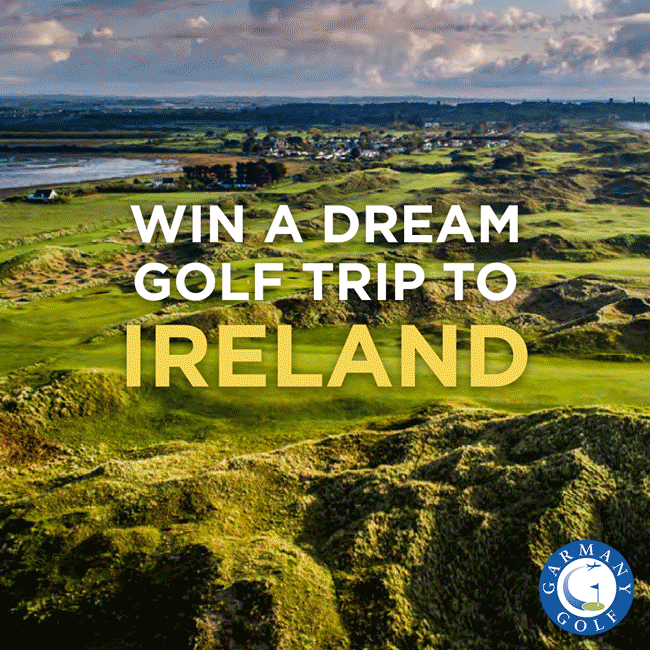 Win a Dream Ireland Golf Experience!
The luckiest of golfers and a guest will travel to Ireland and play four magnificent courses, all ranked Top 100 in the UK and Ireland. The Island Golf Club. County Louth. Portmarnock. K Club. Courses that have hosted Ryder Cups, Walker Cups, Irish Opens - and most importantly, golfers from around the world

The ultimate Ireland golf experience for two can be yours if you win. The Garmany Golf Concierge team will ensure that you and your guest have an unforgettable lifetime experience.

You and a guest:

Will Play
* The Island Golf Club
* County Louth
* Portmarnock
* K Club - Palmer Course

Will Stay
* The Fitzwilliam, Dublin, 5-Star, 3-Nights
* The K Club, County Kildare, 5-Star, 3-Nights

Additional Perks
* World-class guest service from the Garmany Golf concierge team
* Delicious Irish Breakfast each morning of your experience
* Golf outfits for both the winner & guest, curated by RADMOR, makers of luxurious and sustainable golf apparel for on and off the course
* A $500 Ship Sticks gift card to ensure the winners' golf bags ship quick, easy and hassle-free from the US to Ireland and back
* Lag Shot Triple Threat swing training aid bundles for the winner & guest
* Memories never to be forgotten

AN EXPERIENCE ANY FAN OF GOLF WOULD LOVE TO WIN!

So tee it up and enter our Dream Ireland Golf Experience sweepstakes today. Enter through 9/8. Winner announced 9/12.

BONUS: You get 10 additional entries for every friend you get to enter. So do it! The more entries you get, the greater your chance of winning!
---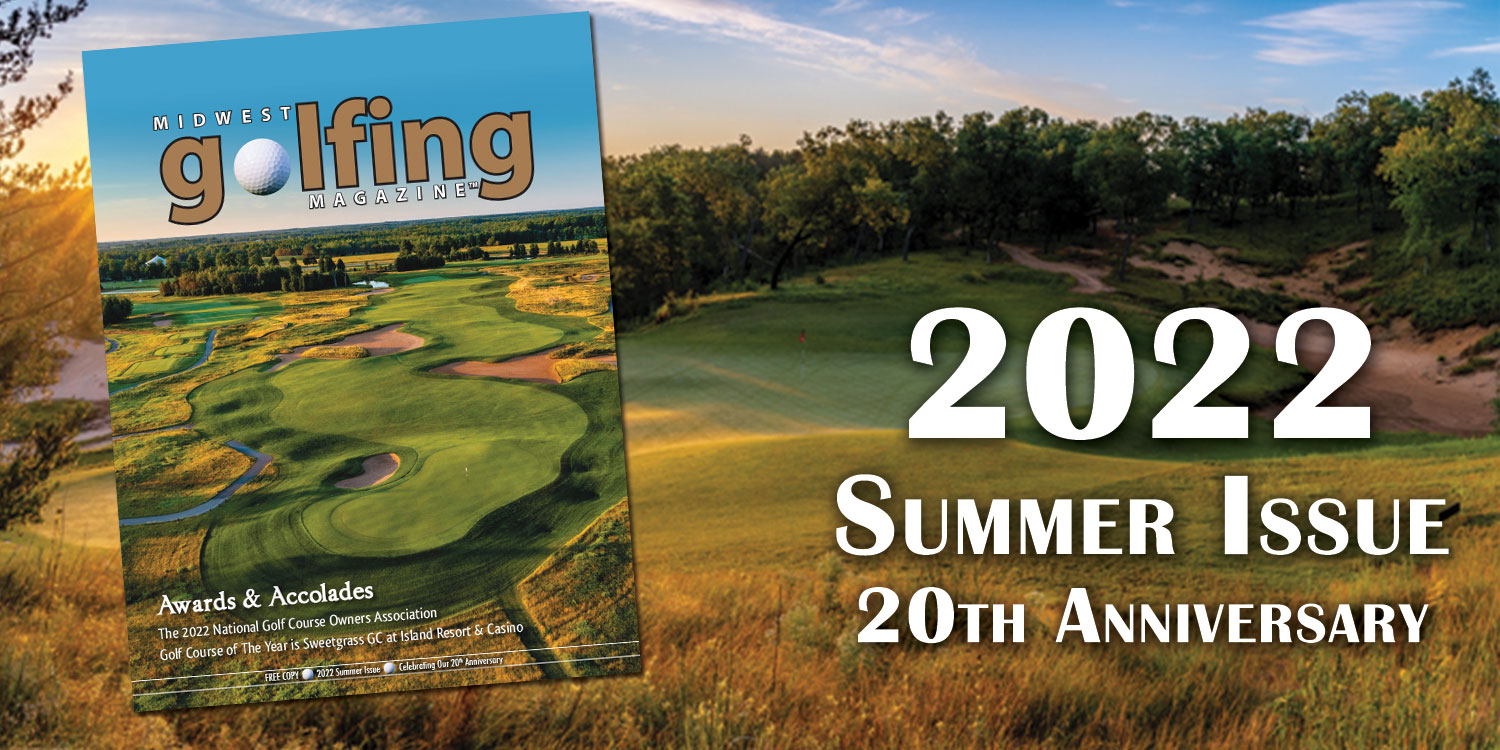 Jay's Tee Box
My favorite time of the year is upon us, and this issue is dedicated to identifying the finest places to play in the Midwest this summer. Our staff has been ultra busy since early May, canvasing our eight-state distribution area in search of spectacular courses and great deals for the local and traveling golfer.

Both the above parameters collide at Island Resort & Casino in Harris, MI, near the border of Michigan and Wisconsin. Sweetgrass Golf Club, the property's hallmark course, was named the Golf Course Owner's Golf Course of Year for 2022, a well-deserved honor that speaks of the immaculate nature of the Paul Albanese design. Plus, the casino just added a new tower, waterpark, and 12th floor upscale restaurant to create an enhanced buddies or couples experience.

MGM then heads west to Wisconsin for features on three of our favorite destinations. Editor Glen Turk had the honor of interviewing Michael Keiser, co-owner of Sand Valley Resort in Central Wisconsin. The property just announced an expansion plus 2022 marks the opening of The Lido, a recreation of the famed Long Island course that was lost to a WWII airfield.

Less than one hour south of Sand Valley resides Trappers Turn, a Larry Packard and Andy North masterpiece that features 27 championship holes and a brand new 12-hole, par-3 course designed by two-time U.S. Open champ Andy North and Craig Haltom. As you'll find out, there is always something new going on at Wisconsin Dells' preeminent course.

One hour north of Green Bay, Wisconsin is the Northwoods seclusion of Pine Hills Golf Course, which is part of the Mohican Northstar Casino in nearby Gresham. Lead staff writer Matt Tevsh recently played the course and reports their golf and gaming packages can't be beat.

Our final visit to the Badger state takes us to The Golf Courses of Lawsonia in Green Lake. The Links and Woodlands are both receiving some TLC this year, but play will not be interrupted according to Editor Glen Turk, who recently toured both courses. If you haven't been to Lawsonia recently, 2022 is the time is cross both courses off your bucket list.

Speaking of stellar 36-hole properties, Glen took part in the 25th anniversary of The Legend at Giants Ridge – one of the Midwest best multi-course facilities. The Legend and Quarry are located roughly three hours north of the Twin Cities are always ranked as the best in the Gopher State.

Our summer issue also features a business profile on Tee Box, Ice Bottle, and Laser Link, who have joined forces to form a Wisconsin powerhouse golf partnership, our popular Ask Annex feature, and our Pro Page with Michael Crowley of Morningstar Golfers Club in Waukesha, WI.

Finally, a summer issue wouldn't be complete without a summer product guide, Chip Shots, and Turk's Takes.

Make Some Birdies,

Jay Royle, Publisher